2/9/2014

Smart History

I am very proud to introduce Conjure's latest feature: Smart History. With Smart History, Conjure learns what actions you take based on day and time. As Conjure learns more about how you use it, it will begin suggesting actions before you even type.

Do you open a bus schedule app every morning on your way to work? That app will start appearing near the top of your history at the right time on the right day, automatically. Do you check Facebook every night after school? Conjure will have it ready for you.

I truly believe this is Conjure's best feature to date. Try out Smart History for a week and I'm sure you'll love it as much as I do.

~Jesse
11/25/2012

Introducing Calendar Integration

I am excited to announce calendar integration in Conjure 1.4! Conjure's calendar integration has two major pieces: event creation & calendar search.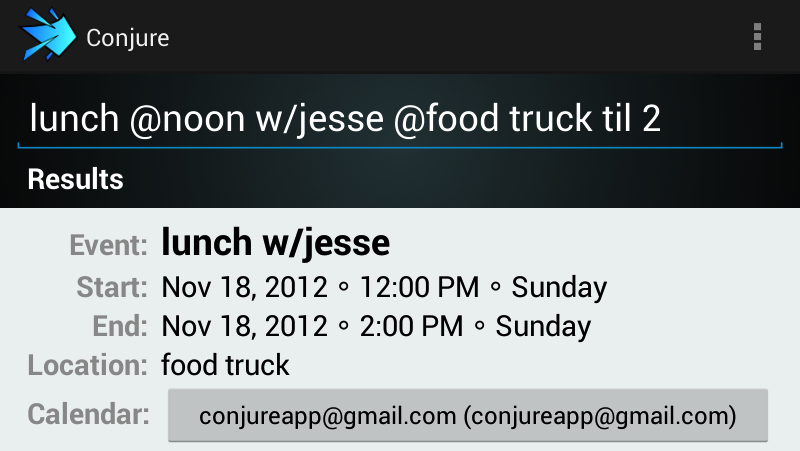 Creating events in Conjure is extremely quick and simple. Conjure uses natural language parsing to take ordinary English sentences and turn them into events on your calendar. You will be surprised just how useful this feature is, even on a touch keyboard. Before Conjure, creating a calendar event on Android was a painful, multi-step process. Now, creating a new event is as simple as typing a sentence like lunch tomorrow w/bob 12p-2. Head over to videos to see a demonstration on my Nexus 7.
Calendar integration also brings your events into Conjure's search. Search for a specific event by title or enter a date to view events for that date. For example: type today to see today's agenda. Type 12/1-12/7 to see events that fall between December 1st & December 7th. As a bonus, when creating a new event, Conjure displays existing events that fall into the same time range.
I can't wait for you to try out Conjure's calendar integration and am sure you will enjoy it as much as I do. Download Conjure now! Calendar integration requires Android 4.0+
~ Jesse